Ep. 88 - Vinyl Records with Brannon Hoff
a dark ride I can throw apples at
8 months ago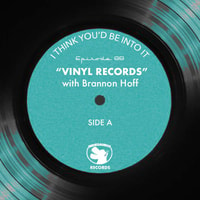 NOTE: THIS WEEK'S PODCAST IS BEING PRESSED ON EXCLUSIVE "I THINK BLUE'D BE INTBLU IT" BLUE SWIRL VINYL WITH A MARSHMALLOW SWIRL AND CHOCOLATE BRANDONS AND IS LIMITED TO ONE COPY. NO PREORDERS OR KEEPSIES, NOT EVEN IF YOU ASK REALLY REALLY NICELY. IT WILL BE AVAILABLE FOR STREAMING ON MONDAY, MAY 17th 2021 AS PART OF PODCAST STORE DAY, WHICH IS A THING I JUST MADE UP.
On this week's show, you pod me right round baby right round as we talk vinyl records with Brannon Hoff (New Nintendo Podcast XL, @brnhoff). We (crate) dig deep on all the reasons why this format is so appealing to nerds and collectors, the benefits of vinyl versus streaming, and share some of our wettest and wildest record collecting stories. Plus: Brandon shares a story about Weezer being grumpy!
Like the show baby right round round round? Then leave a rating and review and round round on the Apple Podcasts app which is apparently good now? or at least not full trash. Who knows! I sure don't. #Overcast.