Ep. 95 - Pinball with Alex Vaughan
aka The Smokey and The Bandit 2 episode
6 months ago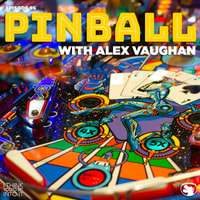 MULTIPOD MULTIPOD MULTIPOD!!!!!!!!
On this week's episode we become trouble youths in the 1950s as we talk pinball with actor Alex Vaughan (@ohno.alexvaughan, Delivery, Sketch That Tune)! We go from SoHo down to Brighton as we discuss the history and intricacies of this odd hybrid game, what makes a machine stand out in a pinball room, and how it feels to just CRUSH a table for the first time. This is also the episode where Brandon talks A LOT about Smokey and The Bandit 2, which if you haven't seen it is truly insane on a number of levels. There is sadly no Smokey and The Bandit 2 pinball machine, though a potential Smokey and The Bandit 3: Smokey IS The Bandit machine is discuss. Bally or Stern or whoever hit me up because I have some IDEAS.
Like our show? Then be like The Bandit and leave a rating AND review on the ol' Apple Podcasts box.