Ep. 89 - YouTube Food Culture with Vanessa Guerrero
"the dead played a 14 minute Morning Dew and it blew Larry Bird's miiiiiiiind"
7 months ago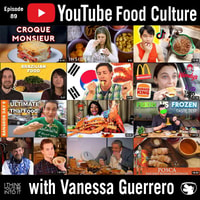 On this week's show multimedia multi-hyphenate Vanessa Guerrero (@nesgritton, El Rey, Kicking and Screaming Podcast) joins us to talk YouTube food culture! We discuss the deep cultural nature of food, food as travel as content, and the slightly voyeuristic nature of some of these channels and presenters. Later, Vanessa and Brandon agree to buy a fuck ton of international potato chips (But hey if Lays Canada wanted to just SEND us some All Dressed Chips we wouldn't complain, eh!). We then spend a significant amount of time listening to Brandon get very turned on while talking about the concept of automats.
Plus: Bill Walton plays the glockenspiel!
Like the show? Leave us a rating and review on the ol' Apple Podcasts box. It's like an automat but for podcasts and also it's very very bad :)