Ep. 82 - Les Misérables with Andrew Lee
"I've got a friend named Miss Saigon/She flies a chopper in her sleep"
9 months ago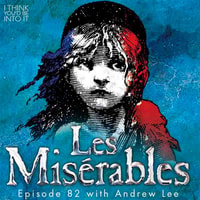 PODCAST! AT LAST! YOU PUT IT IN YOUR EARS! THE "LES MIS" SHOW! IT'S SADDER THAN YOU'VE FEAAAAAAAARED! On this week's show we take a trip down the ol' Mis herself as Andrew Lee (Rabble Rabble at The Pack, @andreww_lee) joins us to talk Broadway's most French musical, Les Miserables. We get properly overdramatic and properly in our feelings as we go deep on this insanely popular musical about a revolution that super duper does not work out. There's lots of singing, lots of jokes about the French, and a sneak preview at Brandon and Andrew's upcoming, canonical sequel Dos Mis. Plus: Hear Brandon say, in all sincerity and with just a bit too much ire "I'm glad that child died." Don't forget to leave a rating and review on the ol' Apple Podcasts thing. Tell 'em Gavroche sent you for 20% off your next failed revolution.