Ep. 80 - Orson Welles with James Kislingbury
aaaaaaaah MandaLORian, I see you have a little man there...
9 months ago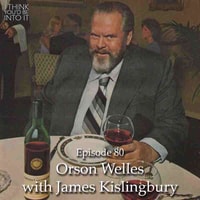 *action orson please*
aaaaaaaaaaaaaaaaaaaaahthepodcast! on this week's program your hosts, that constantly quarreling yet always loving married couple Brennan and Becca, they of I Think You'd Be Into It, are joined by comedian and fellow podcaster James Kislingbury (A Quality Interruption, World's a Mess, @kislingtwits), to discuss me.....Orson Welles....you see I've somehow managed to defy the will of death himself, throwing loose the shackles of eternity to return once more to perform and introductory, a commencement if you will, for this lovely radio program that you listen to on a computer. I've seen several computers, all of them larger than Heston's ego and yet not nearly as useful to me, and the idea that a radio program could come out of one is as preposterous as the idea that Heston could be mistaken for a human in a world full of apes. But I digress. Pod Masson wines gets you drunk on podcasts.. Huhhznzh...zzzzzz.....zzzzz......zzzzzz....