Ep. 96 - Community Organizing with Marquis Olison
Am I mixing up Columbo and Telly Savalas?
6 months ago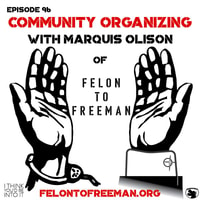 On this week's episode we're joined by the co-founder of Felon To Freeman and Vote Plan, Marquis Olison (@yogimarquis). Marquis shares the story of how he went from an aspiring comedian and improviser to running workshops for the Obama Campaign to eventually founding several community service organizations. We talk about how comedy and community organizing aren't THAT dissimilar, and how his experiences in the entertainment world were beneficial in the world of politics. Plus: Peter Falk is the Elvis of Romania?!?
Like the show? You can help US organize a community of listeners by leaving a rating and review on the ol' Apple Podcasts app ;)